Vaishali: In a horrifying incident that occurred on Tuesday, a 10-year-old child was attacked and devoured by a crocodile in the Vaishali district of Bihar. The young victim, who had gone to fetch water from the river Ganges, was dragged into the water by the crocodile, where the reptile began to feast on the child. The family rushed to the scene upon hearing the child's screams, and nearby individuals alerted local fishermen about the incident. Efforts were immediately made to locate and capture the crocodile in the river. Eventually, both the child and the crocodile were retrieved using a net. Tragically, by the time the child was rescued, a significant portion of his body had already been consumed by the crocodile, resulting in his death. In a fit of anger, the enraged onlookers then proceeded to beat the crocodile with sticks, eventually killing it on the riverbank.
According to the report, the heart-wrenching incident unfolded at Khalsa Ghat, situated in the Bidupur police station area of Vaishali district. The video capturing the horrific event has been widely circulated on social media, showcasing the crowds showering the crocodile with sticks in a display of outrage. The young victim has been identified as Ankit Kumar, a 10-year-old resident of Gokulpur village in the Bidupur police station area. Ankit was a fifth-grade student. On that fateful Tuesday, his entire family had visited Khalsa Ghat to perform religious rituals associated with their new motorcycle. While preparations were underway for the ritual, Ankit ventured to the river Ganges to collect water.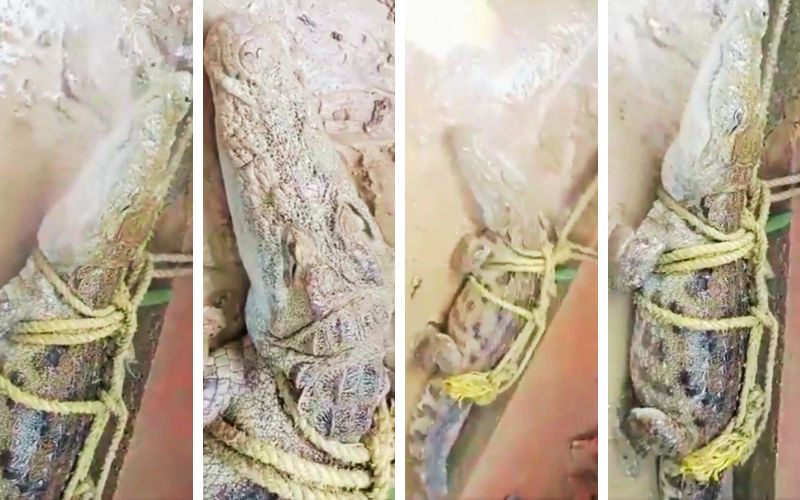 Eyewitnesses present at the ghat during the incident recounted that the entire tragedy unfolded within a span of approximately 50 minutes. The crocodile had positioned itself strategically in an area with shallow water, lying in wait for prey. As soon as the unsuspecting child approached the river to collect water, the crocodile swiftly attacked, submerging itself underwater along with the child. Upon hearing the cries of the distressed child, both the family and other individuals in the vicinity rushed to intervene.
The devastating incident serves as a stark reminder of the potential dangers posed by wildlife in certain regions. The local authorities have been alerted to the incident, and investigations are underway. The loss of young Ankit's life has left the community in deep mourning, while also raising concerns about the presence and safety of individuals near water bodies inhabited by crocodiles. As the viral video circulates on social media, it has sparked a wider conversation about the need for increased awareness and precautions to prevent such tragic encounters in the future.