Patna– The decision by the Bihar state education department to cancel 15 leaves in government schools has drawn sharp criticism from the Bharatiya Janata Party (BJP), which has expressed disappointment and launched an attack on the Nitish Kumar-led government.
In a notification issued on Tuesday, the state education department announced the cancellation of leaves on significant Hindu festivals, including Raksha Bandhan, Teej, and Jiutia, in government schools. Reacting to the move, Union Minister and prominent BJP leader Giriraj Singh voiced his discontent with the Nitish government's decision.
"बिहार सरकार ने हिंदू त्योहारों पर छुट्टियां रद्द की हैं, कल हो सकता है बिहार में शरिया क़ानून लग जाए"

◆ केंद्रीय मंत्री गिरिराज सिंह का बयान @girirajsinghbjp | #BiharGovernment | #Bihar pic.twitter.com/e1wJvxWGCN

— News24 (@news24tvchannel) August 30, 2023
Singh remarked, "This time the state government has cancelled leaves on Hindu holidays, who knows if Sharia law is imposed in the state tomorrow." His statement reflects the BJP's criticism of the government's approach toward religious festivals and its potential implications.
बिहार की यह घमंडिया सरकार लगातार #तुष्टिकरण की राजनीति कर रही है। चाचा-भतीजे की सरकार हिंदुओं की भावनाओं को आहत करने से बाज नहीं आती है।

बिहार में अब क्या #हिन्दू अपने धार्मिक त्यौहार भी नहीं मना सकते हैं ?

दीपावली, दुर्गा पूजा के अलावा महापर्व छठ की छुट्टियों में भी कटौती कर… pic.twitter.com/AGL7QVedYL

— Samrat Choudhary (@samrat4bjp) August 30, 2023
Traditionally, during festivals, government institutions across the country, both at the central and state levels, remain closed. However, the recent notification mandates that schools in Bihar will remain open during these festivals, a departure from the norm.
The decision to curtail leaves is rooted in the aim of ensuring that primary schools remain operational for a minimum of 200 days, while middle schools function for 220 days within a year. The education department has cited various reasons, such as elections, examinations, law and order situations, festivals, floods, and natural calamities, as factors that disrupt the regular study schedules of students.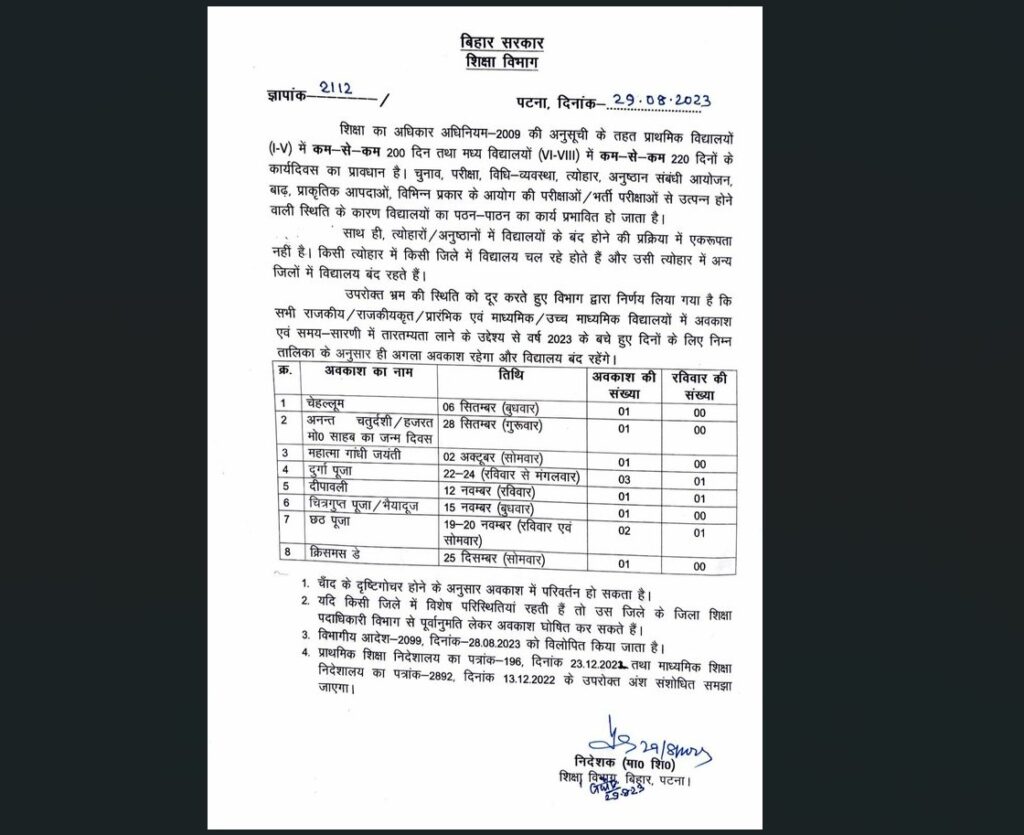 To address this concern, the education department has limited the number of permissible leaves to 10 days and has revoked 15 days of leave. Festivals like Raksha Bandhan, Krishna Janmashtami, Hartalika Teej, Jiutia, and Durga Puja have been affected by this decision. The Durga Puja leave period has been shortened from six days to three, while occasions like Chitragupt Puja and Bhai Duj have been merged into a single day.
However, the notification still allows for leaves on certain dates, including Chehallum, the birth anniversary of Hazrat Mohammad, Mahatma Gandhi Jayanti, Diwali, and Christmas Day.
The move has sparked a political debate, with the BJP's criticism centering on the government's handling of religious holidays and its potential impact on the state's cultural practices. As opinions continue to diverge, the cancellation of leaves in Bihar's government schools remains a contentious issue.