New Delhi: Aam Aadmi Party (AAP) MP Raghav Chadha had an unexpected and rather bizarre encounter on the Parliament premises today when a crow suddenly swooped down and attacked him. The incident, captured in a photograph, quickly went viral on social media platforms, sparking concern among netizens about his well-being.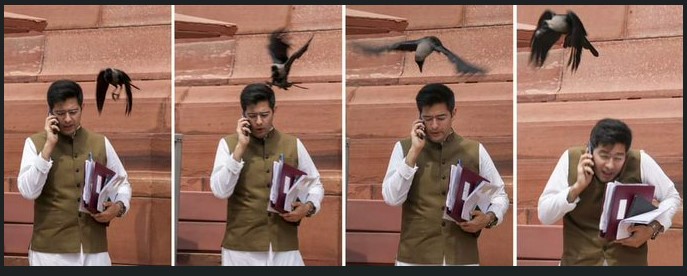 Raghav Chadha, known for his vocal stance against the Bharatiya Janata Party (BJP) both inside and outside Parliament, was taken by surprise as the crow made its swift move. Fortunately, he did not sustain any major injuries, but the incident left him momentarily startled.
Soon after the photograph surfaced, numerous people took to social media to inquire about the MP's well-being, expressing their worry and hoping for his safety. The incident also attracted a fair share of attention from political circles.
Taking advantage of the situation, the Delhi unit of the BJP seized the opportunity to take a dig at Raghav Chadha. The official Twitter handle of the BJP's Delhi wing shared the photograph and captioned it with a proverbial phrase, "Jhooth bole kauva kate," which translates to "The crow bites when one speaks lies."
झूठ बोले कौवा काटे 👇

आज तक सिर्फ सुना था, आज देख भी लिया कौवे ने झूठे को काटा ! pic.twitter.com/W5pPc3Ouab

— BJP Delhi (@BJP4Delhi) July 26, 2023
In recent times, Raghav Chadha had been actively raising questions and criticisms against the Bharatiya Janata Party, especially during the ongoing monsoon session. The suspension of Aam Aadmi Party MP Sanjay Singh from the session further fueled Chadha's fervor to voice his dissent.
As the photograph continues to circulate on social media, the incident has added a touch of humor to the often tense and serious atmosphere of Indian politics. Despite the lightheartedness of the situation, it serves as a reminder of how social media can quickly turn everyday occurrences into major talking points.