Food & Nutrition Show organized at Science City under Mission LiFE
KAPURTHALA(Punjab): "Traditional Indian foods have been prepared for many years and preparation varies across the country. Traditional wisdom about processing of food, its preservation techniques, and their therapeutic effects have been established for many generations in India. Food systems can deliver numerous biological functions through dietary components in the human body. Indian traditional foods are also recognized as functional foods because of the presence of functional components such as body-healing chemicals, antioxidants, dietary fibers, and probiotics. These functional molecules help in weight management, and blood sugar level balance and support immunity of the body",  said by Dr.Neelima Jerath, Director General, Science City at the occasion of "Food and Nutrition Show" organized at Science City, Kapurthala under Mission LiFE (A Ministry of Environment, Forest & Climate Change initiative)  with Punjab State Council for Science &Technology as the state nodal agency.
Dr Jerath also informed that this show also coincides with the celebration of International Year of Millets. Millets have been an integral part of our diet for centuries. In addition to a plethora of health benefits, millets are also good for the environment with low water & input requirement.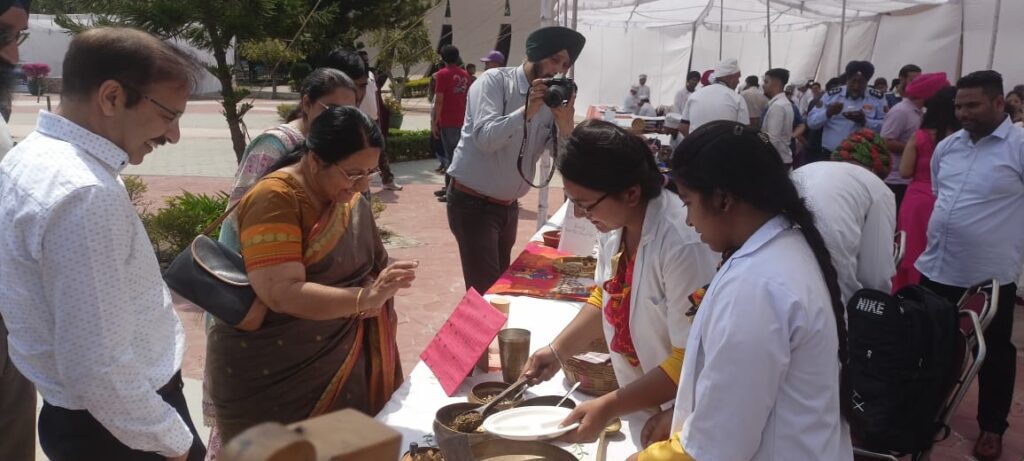 Speaking at the occasion Dr. Rajesh Grover, Director Science City said that we need to inculcate scientific temper as well as healthy eating habits for a sustainable future. This show aims to promote the generation of new ideas in healthy eating, adopting an integrative nutritional approach and instilling good food habits besides providing a platform to all budding chefs.
Sumit Chakraborty, Executive Chef, ITC Fortune, Jalandhar and Prof. Sanjeev Kumar Sharma, School of Hotel Management, Lovely Professional University were the judges at this event. The competition was organized under two themes: Health and Traditional Foods & Foods from Millets. More than 300 students from Hotel Management Institutes/Colleges, schools and housewives participated in the show. The show was catalyzed & supported by Ministry of Environment, Forest & Climate Change.
Result of the competitions: Result of the competitions : Health and tradition food students Category Mr.Rohit parsed from CT Institution Jalandhar got first prize, Mehakpreet from NFSC Jalandhar stood second and Amit Gill from Aroma Group of Institute achieved third. Beside this in a amateur Category Anahad Bains got first prize , Sukhwinder stood second and third prize clinched by Gursha Singh .
Food from millet : Student Category : Shsubkarm and Uravsh from GNA University received first and third prize respectively whereas Sidhi Gupta From HMV stood at secod Position . In a Amateur Category Joyti Kadam and Shiria Mani stood at first and second prize respectively . Overall p best dish (special Navratri Thali ) got by Sonu from GNA.