PATNA: The report of Ganga Vilas Cruise, which left for Dibrugarh from Varanasi, got stuck in the shallow water of the river in Chhapra district of Bihar, started becoming increasingly viral on social media on Monday. The reports claiming are absolutely false, according to the operator.
While the Ministry of Transport and Waterways has termed it wrong. In a release issued on his behalf, it was told that there is no truth in the news that the ship was stuck in Chhapra. The anchorage and transportation of the ship is decided by the cruise operator based on the safety and privacy of its passengers.
A group of tourists from the cruise reached Takht Sri Harmandir Sahib in Patna City on Tuesday. The committee grandly welcomed the foreign tourists here. On this occasion, foreign tourists reached the court of Takht Shri Harmandir and bowed down. Also enjoyed the langar.
The group of foreign tourists also visited various religious places of Patna City. The people of the Harimandir Sahib Management Committee told that special arrangements have been made for security and travel for foreigners here. From Takht Harimandir Sahib to Bal Leela Gurdwara, detailed information about the works of Guru Gobind Sahib has been given for foreign tourists.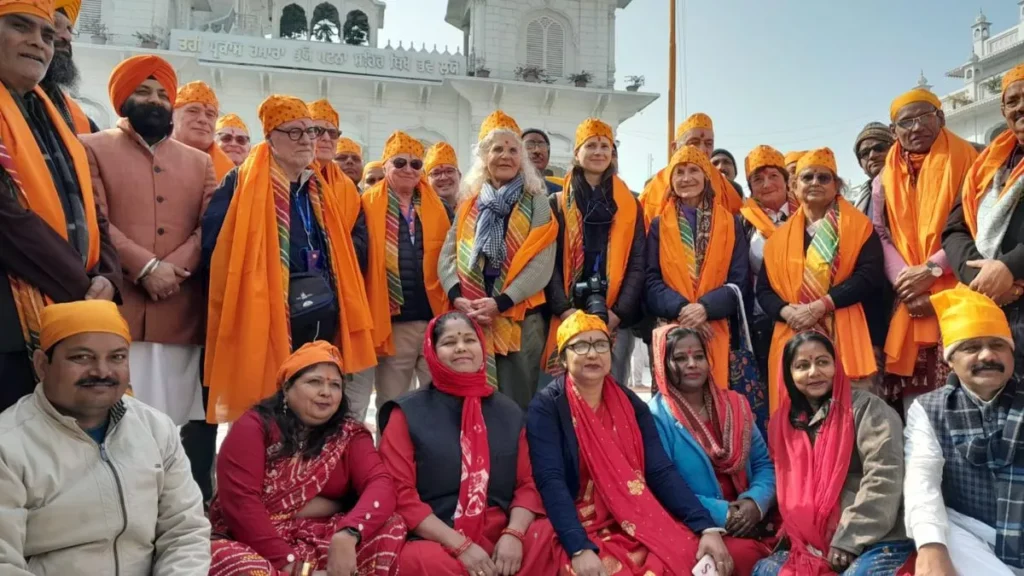 According to the information, Ganga Vilas Cruise had reached Patna's Gai Ghat at seven o'clock last Monday. On Tuesday morning, all the tourists first reached Takht Shri Harmandir Sahib Gurudwara. From here all the tourists were taken to Golghar. After this, this ship was opened from Gaighat at 2 o'clock in the day. For this, the Pipa bridge built on the river Ganga was opened in Kachhi Dargah.
However, in relation to Ganga Vilas Cruise getting stuck in water in Chhapra on Monday afternoon, Cruise Director Raj Singh said that the water in the river was less and the silt was more on the banks. Because of this it was not right to take the cruise to shore. That's why small boats were called and through them the tourists were taken to the Chirand coast. After visiting the Chirand archaeological site, the tourists left for Patna by cruise.
On the other hand, SP President Akhilesh Yadav tweeted on the news of cruise getting stuck in the social media that now will these passengers be given Vayu Vilas through aeroplane. Let us inform that on January 13, Prime Minister Narendra Modi had flagged off the Ganga Vilas Cruise from Kashi through video conferencing. In which the Ganga Vilas Cruise carrying 31 foreign tourists left from Banaras Ghat.