India vs. Australia to kick off ICC World Cup 2023 in Chennai

High-Stakes Encounter: India set to face Arch-Rivals Pakistan in World Cup clash

Excitement Builds as ICC ODI World Cup 2023 cities and venues revealed
Ahmedabad – The cricketing world is abuzz with excitement as the International Cricket Council (ICC) has officially announced the schedule for the highly anticipated ICC ODI World Cup 2023. The tournament is set to kick off on October 5 in Ahmedabad, India, with the final match slated to take place in the same city on November 19.
In what promises to be a thrilling opening encounter, the Indian cricket team will lock horns with their fierce rivals, Australia, on October 8 at the iconic M. A. Chidambaram Stadium in Chennai. Cricket enthusiasts from around the globe are eagerly awaiting this clash between two cricketing powerhouses, hoping for a scintillating display of talent and competitive spirit.
Adding to the excitement, India will face off against Pakistan on October 15 at the Narendra Modi Stadium in Ahmedabad. The match is sure to capture the attention of fans worldwide, as these two neighboring nations share an intense cricketing rivalry that transcends the boundaries of the sport.
According to the ICC report, A total of 10 teams will participate at the showcase event, the first eight having already qualified through the Cricket World Cup Super League. The final two spots will be determined at the end of the Qualifier tournament in Zimbabwe, which concludes on July 9.
Each team plays the other nine in a round robin format with the top four qualifying for the knockout stage and semi-finals.
The matches of the ICC ODI World Cup 2023 will be played in 12 cities across India, showcasing the country's rich cricketing heritage and passion for the sport. The venues include Ahmedabad, Chennai, Bengaluru, Hyderabad, Thiruvananthapuram, Mumbai, Pune, Lucknow, Delhi, Guwahati, Kolkata, and Dharamshala. These cities will come alive with the fervor and excitement of cricket as fans from all corners of the world unite to support their favorite teams.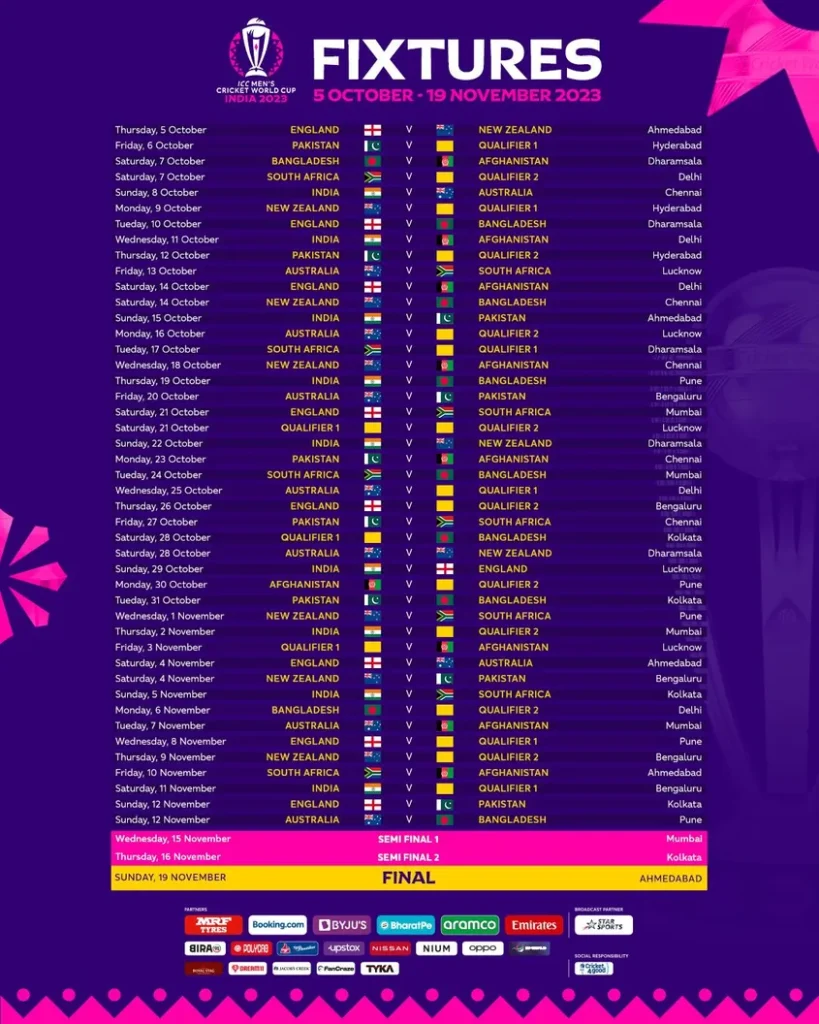 The ICC ODI World Cup is not only a celebration of cricket but also an opportunity for nations to come together and showcase their talent on the global stage. With a rich history and tradition, the World Cup holds a special place in the hearts of cricket enthusiasts. It is a platform where heroes are born, legends are made, and unforgettable moments etched into the annals of the sport.
The first semi-final will be held on Wednesday November 15 in Mumbai and the second semi-final will be held the following day in Kolkata. Both semi-finals will have a reserve day.
The Final will take place at the Narendra Modi Stadium in Ahmedabad on November 19 with November 20 slated as the reserve day.
All three knock-out fixtures will be day-night affairs, with the matches beginning at 14:00 local time.
India's World Cup fixtures
IND vs AUS: October 8, Chennai
IND vs AFG: October 11, Delhi
IND vs PAK: October 15, Ahmedabad
IND vs BAN: October 19, Pune
IND vs NZ: October 22, Dharamshala
IND vs ENG: October 29, Lucknow
IND vs QF2: November 2, Mumbai
IND vs SA: November 5, Kolkata
IND vs QF1: November 11, Bengaluru
Pakistan's World Cup fixtures
October 6: Pakistan vs Qualifier 1 in Hyderabad
October 12: Pakistan vs Qualifier 2 in Hyderabad
October 15: Pakistan vs India in Ahmedabad
October 20: Pakistan vs Australia in Bengaluru
October 23: Pakistan vs Afghanistan in Chennai
October 27: Pakistan vs South Africa in Chennai
October 31: Pakistan vs Bangladesh in Kolkata
November 4: Pakistan vs New Zealand in Bengaluru
November 12: Pakistan vs England in Kolkata
Tournament Venues
There will be a total of 10 venues – Hyderabad, Ahmedabad, Dharamsala, Delhi, Chennai, Lucknow, Pune, Bengaluru, Mumbai and Kolkata.
Guwahati and Thiruvananthapuram in addition to Hyderabad will host the warm-up matches from 29 September to 3 October.
As the countdown to the ICC ODI World Cup 2023 begins, fans and players alike eagerly anticipate the thrill and drama that this tournament promises to deliver.