Motihari: GD Goenka Public School, Motihari on Thursday organized an Inter-House English Debate Competition for students in Grades V-VII. The event aimed to nurture the public speaking skills of the participants and teach them to effectively articulate their thoughts and opinions. The competition provided a platform for students to explore the topic "Is Digital Technology Making Children's Life Better?" and offered a kaleidoscope of opinions, thoughts, and perspectives.
The debate competition followed a parliamentary-style format, with four teams representing different houses, each comprising two speakers. One speaker from each team proposed the motion, while the other opposed it. The participants presented their viewpoints, captivating the audience with their eloquence, which garnered cheers and applause. The competition reached its climax during the rebuttal phase, as opposing and proposing teams engaged in thought-provoking questions and provided prompt and assertive answers.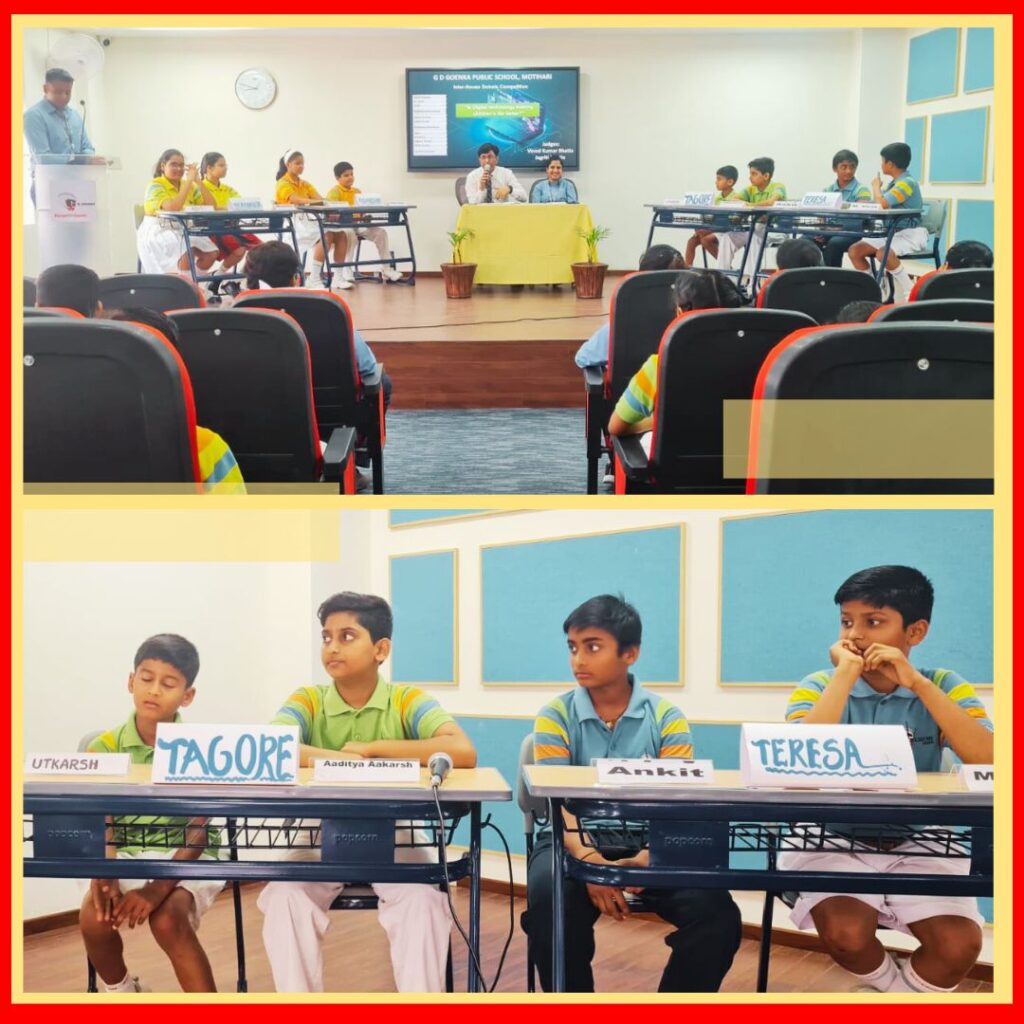 The panel of judges consisted of Principal Vinod Kumar Bhatia and Head of Primary Jagriti Bhatia, with Manu Viraj serving as the moderator. The judges commended the efforts of the speakers and provided valuable feedback to all the participants, encouraging their growth and development.
After careful deliberation, the results were announced, with Teresa House securing the first position, followed by Radhakrishnan House in second place, Vivekanand House in third place, and Tagore House in fourth place. The declaration of the winners marked the culmination of a successful and impactful day.
The Inter-House Debate Competition received widespread acclaim, setting high standards for future events and raising the bar for student participation. The competition not only enhanced students' knowledge and understanding of the chosen topic but also instilled confidence in their ability to express themselves effectively.
GD Goenka Public School, Motihari's commitment to providing students with a platform for intellectual discourse and honing their communication skills was evident throughout the event. The success of the competition serves as a testament to the school's dedication to fostering a holistic learning environment that nurtures both academic and extracurricular development.
As the students reflect on their participation and achievements, the Inter-House Debate Competition will be remembered as an enriching experience that further strengthens their skills and prepares them for future endeavors. The event has undoubtedly left an indelible impact, serving as a stepping stone for the students' personal and academic growth.