PATNA: My interest is not in the possession of power, but in the control of the people. This was to say J.P. That is, of Jayaprakash Narayan, popularly known as 'Lok Nayak'. The same JP who was an Indian freedom fighter, social reformer and politician. It is said that if you want to see how fast the heat of the entire revolution can be, it can be seen in Loknayak Jayaprakash Narayan. A voice on whose hums a group of youth used to go out on the streets. JP was that spark of a complete revolution which had erupted as a fire in every nook and corner of the country. JP had become synonymous with revolution from house to house.
On the birthday of Lok Nayak JP, political parties are not missing out on targeting each other in Bihar. On the birth anniversary of Jai Prakash Narayan, first Sushil Modi surrounded Nitish for garlanding the statue of JP. The same national president Lalan Singh retaliated and said, 'Sushil ji, during the mass movement of 1974, how many times revered Loknayak Jayaprakash Narayan ji had made comments about RSS and BJP, do you remember or should I remind you?'
Earlier, Bihar former Deputy Chief Minister Sushil Kumar Modi made a tweet on Monday about Nitish Kumar. In which he wrote that "with what mouth will Nitish Kumar, who has joined hands with Congress who imposed Emergency and Lalu convicted in corruption case, garland the statue of JP? In response to this tweet, Lalan Singh retaliated by remembering Sushil Modi.
सुशील जी,

1974 के जन आंदोलन के दौरान श्रद्धेय लोकनायक जयप्रकाश नारायण जी ने आरएसएस और बीजेपी के बारे में कितनी बार टिप्पणियां की थी, आपको स्मरण है या मैं आपको स्मरण कराऊं ? https://t.co/FRuygpYOnz

— Rajiv Ranjan (Lalan) Singh (@LalanSingh_1) October 10, 2022
With which face will Nitish Kumar, who has joined hands with Congress who imposed emergency and Lalu convicted in corruption case, garland JP's statue?, added Modi.
Know the generator of total revolution, Jayaprakash Narayan
Jayaprakash Narayan i.e. JP was born on 11 October 1902 in Sitabdiara, Saran in Bihar. After his initial studies from Patna, he studied in America. He returned home in 1929 and became active in the freedom movement. He was a Marxist then. Wanted to drive the British out of armed revolution. However, his outlook changed after meeting Mahatma Gandhi and Jawaharlal Nehru.
Joined the Congress on the advice of Nehru. But, after independence, he joined the Sarvodaya movement of Acharya Vinoba Bhave. He carried forward the movement in rural India and supported Bhoodan. JP wrote the book Restructuring the State System in the 1950s. It was only after this that Nehru formed the Mehta Commission and worked on decentralization. Most importantly, JP never fell for power. Nehru wanted, but JP stayed away from the cabinet.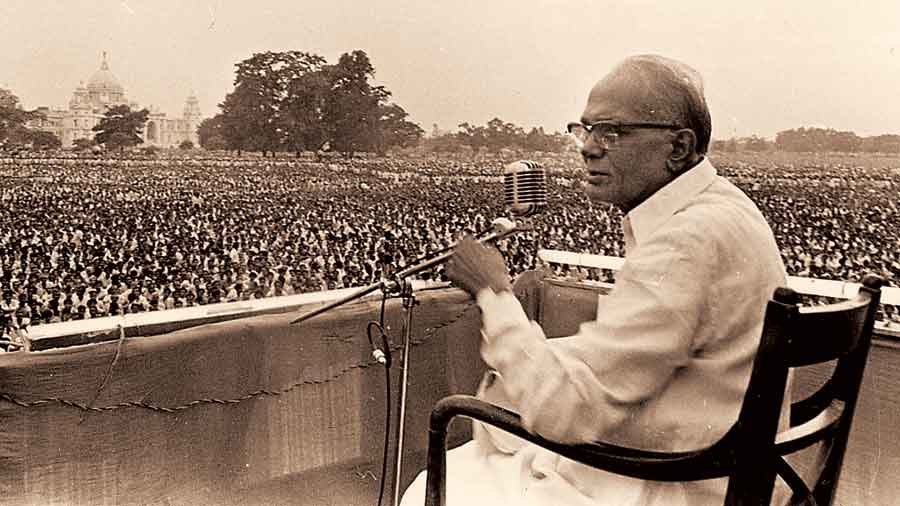 Journey from Jayprakash Narayan to Revolutionary JP
JP was the fourth child of his parents. He was sent to Patna for studies at the age of 9. He was very fond of reading and writing. When JP was in school, he often read magazines like Saraswati, Prabha and Pratap. In 1920, at the age of 18, he was married to Prabhavati Devi. After marriage, JP once again got busy in his studies. In those days, his wife Kasturba started living in Gandhi Ashram with Gandhi.
Once he heard the speech of Maulana Abul Kalam Azad. Kalam had said in his speech, 'Young people, give up English (education) and come to the field and demolish the crumbling walls of British rule and build an India which creates fragrance in the whole world'. And he left Patna College and took admission in 'Bihar Vidyapeeth'. After studying at Bihar Vidyapeeth, in 1922, Jayaprakash went to America for further studies.
In America, JP himself used to take out the expenses for his studies. For this he used to work in farms, companies, restaurants. During this time JP learned about the difficulties being faced by the working class. JP was influenced by Marx's socialism from the beginning. M.A. After completing her degree, she had to come back to India due to her mother's ill health.
When JP returned to India from America in 1929, the freedom struggle was at its peak. Gradually JP also remained untouched by this and came in contact with Jawaharlal Nehru and Mahatma Gandhi. After that he became a part of the freedom struggle. JP gave direction to the movement in different parts of India when Gandhi, Nehru and other important Congressmen went to jail during the Civil Disobedience Movement in 1932. In the end, the British government also arrested him and imprisoned him in Nashik jail.
In jail, he met many other leaders and freedom fighters. JP met leaders like Achyut Patwardhan, MR Masani, Ashok Mehta in Nashik jail. Later all of them together formed the Congress Socialist Party (CSP) and when the Congress decided to participate in the elections for the first time in 1934, the Congress Socialist Party openly opposed it. When the country got independence, Even after that, JP constantly appeared to stand for social justice.
When the country became independent, the government did many scams, which caused huge loss to the country and the countrymen. In such a situation, JP once again came forward and filled the youth with enthusiasm. To the youth troubled by unemployment, hunger, JP spoke of 'total revolution' for change of power, but he clearly said that the path of complete revolution would be non-violent. Against the power, when Jayaprakash Narayan called for a complete revolution at the historic Gandhi Maidan in Patna. Millions of people present in the field said in one voice
Break caste, leave tilak-dowry, divert the flow of society in a new direction: JP
What was it then, JP, who used to be a supporter of Congress, came on the streets after 2 decades of independence against the corrupt and undemocratic methods of Indira Gandhi government. In 1975 Indira Gandhi was accused of rigging the election and Jayaprakash united the opposition and demanded her resignation.
Indira Gandhi imposed emergency in the country in protest against this and J.P. Including thousands of opposition leaders were imprisoned. JP's health started deteriorating in jail. The flame of revolution that JP had lit across the country was burning and then in January 1977, the Indira Gandhi government decided to lift the emergency. Elections were held in March 1977 and Loknayak's "Total Revolution Movement" led to the formation of a non-Congress government in India for the first time. In this way, Jayaprakash united the non-communist opposition parties to form the Janata Party. The main face of this victory was Jayaprakash, but he himself kept away from the political post and nominated Morarji Desai as the Prime Minister. Troubled by ill health, JP was released on 12 November 1976. During treatment, it was found that his kidney had deteriorated, after which he remained on dialysis. After all, he died on 8 October 1979 in Patna due to heart disease.
Seeing the nature of his non-violent movement, some people gave him the title of 'Gandhi of free India'. The Government of India posthumously awarded him the country's highest civilian award 'Bharat Ratna' in 1998, in 1965 he was also honored with the 'Magsaysay' award for social service.