Science City Celebrates International Day for Women & Girls in Science
Science City celebrated International Day for Women & Girls in Science by organizing a webinar. More than 100 girl students and teachers from all over Punjab participated in the event. The main objective of the day was to promote equal participation of women and girls in Science, Technology, Engineering and Mathematics (STEM) fields.

Dr. NeelimaJerath, Director General and the first woman to head a Science City in the country, in her special addresslauded various Science & Technology interventions including improved access to health care, education, increased economic opportunities havingpositively impacted women life. She said that earlier S & T had been a male dominated area wherein women had been denied entry, recognition, even paid less and were limited to the fields of Medicine, teaching, etc. Contributions of women who had made many important contributions in the earlier centuries after remained unrecognized.
However, today women have made a significant mark in the male dominating fields like Engineering, Medicine, Research, Innovation, Administration, etc. From being the first woman to hold a teaching position in a university to the first to earn a doctorate, women have blazed the trail for thousands after them and have broken the glass ceiling, thereby leading in scientific research, science administration, science communication, and Innovation.However, the number of women and girls in science, innovation and cutting-edge technology need to be increased, especially in leadership positions. This calls for the need to find inclusive, effective, and sustainable solutions to build a better society for all, she added.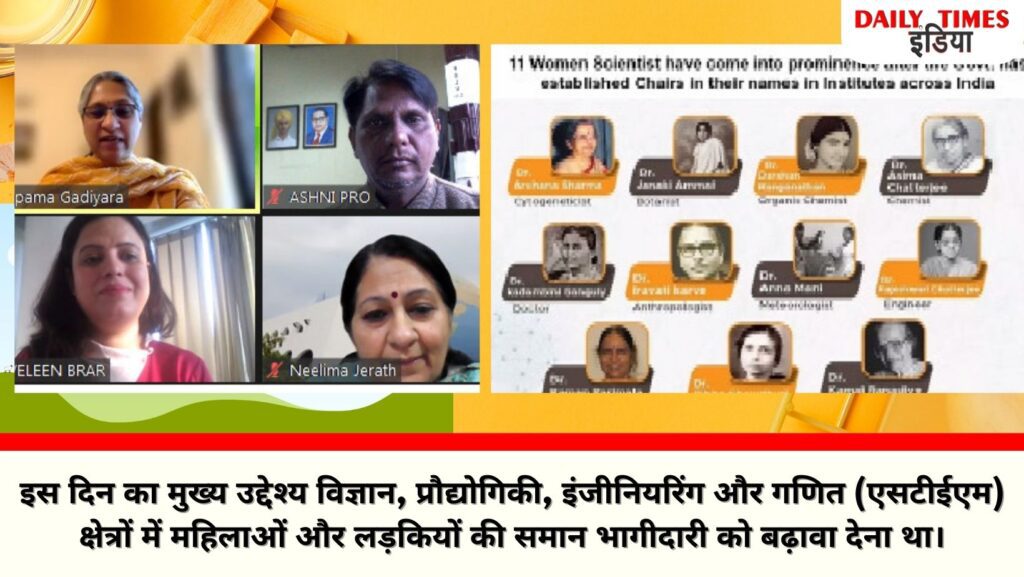 Dr. G.C Anupama (former Dean & Senior professor, Indian Institute of Astrophysics) – the First Woman president of the Astronomical Society of India& CV Raman Young Scientist Awardee at this occasion discussed various options available in the country for pursuing a career as a professional researcher in astronomy and astrophysics. She also shared her personal journey as an astronomer.Dr.Anupama motivated young girls to move forward, to dare and appealed to facilitate the essential engagement of women in the scientific and technological community by strengthening their full and equitable participation.
Earlier welcoming the speakers and delegates, Dr.LoveleenBrar, Scientist 'C', Science City said that women are equal partners in the society and no country can become Atmanirbhar without their active participation in all walks of life, including Science & Technology and Innovation. Infact, whereas men think only about complex solutions, women innovate with application of an innovation in the society which makes the world a better place to live. Presenting the Vote of Thanks, Dr. R.Grover, Director, Science City said that times have changed and the wings of the modern women of India are strong for which even the sky is never a limit.