Motihari: Exhibiting the diverse expressions of Dussehra festivities across the country, GD Goenka Public School embraced the spirit of this significant occasion on the 20th of October, 2023. Resonating with the spirit of triumph of good over evil, the students of class 1 orchestrated a captivating performance illustrating the iconic saga of Lord Rama's victory over Ravana. Their vibrant presentation not only depicted their ardent devotion but also reflected their zealous involvement in the celebration.
Chief Trustee Krishna Kumar, in an insightful address, illuminated the essence and significance of Dussehra, imparting valuable lessons to the young minds and wishing them a bright and prosperous future, in anticipation of the upcoming Dussehra celebration.
In a thought-provoking speech during the assembly, Principal Vinod Kumar Bhatia urged the students to uphold the virtues of truth and justice in their lives, emphasizing the festival's timeless message of the prevalence of truth. A symbolic effigy burning of Ravana was organized by the school, symbolizing the eradication of vices and negative tendencies. The enthusiastic participation of the students amplified the fervor, as they pledged to relinquish their own personal vices.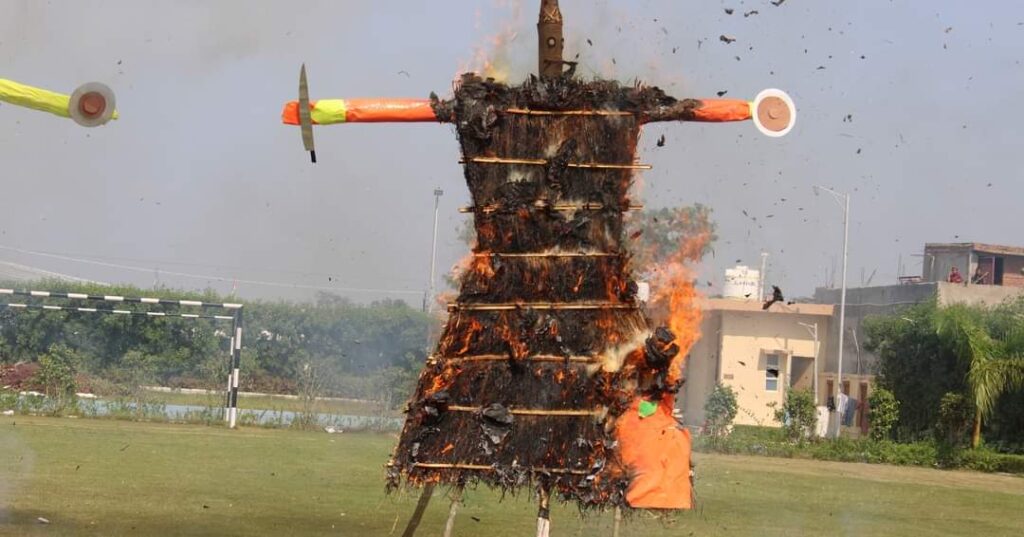 This event not only provided an enriching experience but also served as a conduit for the students to connect with the rich cultural heritage of our nation. Present at the event were several esteemed figures including Primary Head Jagriti Bhatia, Administrator Rahul Kumar, Accountant Aditya Pandey, IT Head Abhishek Ranjan, as well as Pritam Kumar and Abhay Kumar.