Miscreants shot at least three rounds of fire in the air 
KOTWA: In a broad daylight heist, five armed robbers looted Rs 5.5 lakh cash and half a dozen mobiles on Saturday from the Central Bank of India CSP branch operating at Garhwa Khajuria Chowk located Kotwa police station area.
The robbers who had riding two bikes carried out the incident. During the robbery, the miscreants fired 3 – 4 rounds of air and created an atmosphere of panic. After the robbery, the miscreants fled towards Dumariaghat.
Due to the incident of robbery in broad daylight, an atmosphere of fear has arisen among the people. At the same time, questions are also being raised on the working style of the police.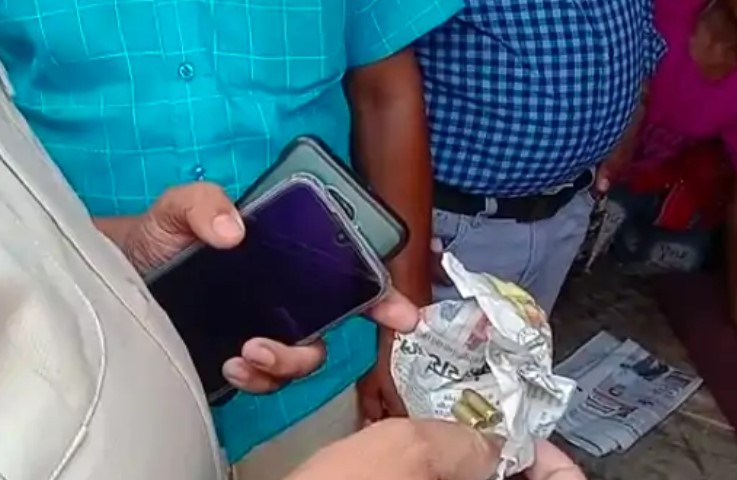 Regarding the incident, CSP Director Munna Kumar was giving money to customers sitting in his CSP. Meanwhile, five miscreants on two bikes entered his CSP waving weapons and looted Rs 5,45000 in his throat and left there while firing in the air.
There was an atmosphere of chaos for some time after hearing the sound of bullets. Meanwhile, the Kotwa police got information about the incident, Kotwa police reached the spot and is busy in identifying the criminals by questioning the CCTV footage installed there and the customers present.
Kotwa Police engaged in the investigation of the case:
At the same time, after getting information about the incident, the police reached the spot and started investigating the matter. Police have recovered two bullet shells from the spot. Kotwa Police Station said that there has been an incident of CSP robbery. Which is being investigated. Bike riding criminals have carried out this incident at Garhwa Khajuria Chowk of Kotwa. Soon the robbers will be arrested.