Pushpa Gujral Science City, in collaboration with the Punjab Bio-diversity Board celebrated International Biodiversity Day with great enthusiasm. The event focused on raising awareness about the significance of biodiversity conservation and was themed "From Agreement to Action: Build Back Biodiversity."
Dr. Rajesh Grover, Director, Science City giving introductory remarks at the occasion highlighted the importance of this year's theme about need to move beyond simply acknowledging the importance of biodiversity and instead taking concrete steps to reverse the loss of biodiversity caused by human activities. He emphasized that it is essential to translate words into tangible actions to ensure the conservation of biodiversity and safeguard the natural world for future generations. Drawing attention to the Science City's own remarkable biodiversity, Dr. Grover shared that it houses a diverse ecosystem comprising over 5,500 trees, representing 168 species and 155 genera.
Further, numerous higher education institutions in Punjab have recognized the significance of environmental conservation. They have taken proactive steps by incorporating field visits to Science City as part of their compulsory course on 'Environmental Studies.'  PGSC, together with these educational institutions, continues to be at the forefront of driving environmental consciousness and inspiring individuals to prioritize and protect the invaluable ecosystems that sustain life on our planet.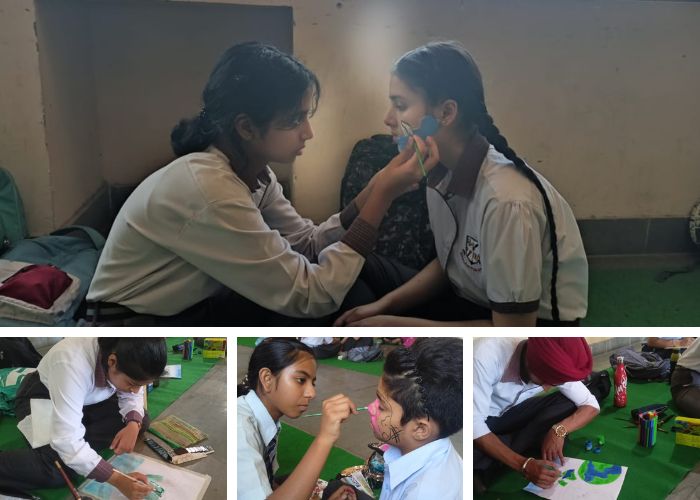 Prof. Renu Bhardwaj, Department of Environmental Science, delivered a keynote address at the event. She shed light on the major threats faced by plant and animal species, namely global warming and mass deforestation. She informed that 10% of India's plant species are currently under threat, with over 150 medicinal plants having disappeared in recent decades. Additionally, approximately 10% of flowering plants, 20% of mammals, and 5% of birds are endangered. She stressed the need for a collective global effort to address this issue, emphasizing that education, compassion, and hard work can bring about the necessary change to create a better world for future generations.
Alongside the informative talks, the event also featured engaging activities, including Poster Making and Face Tattoo Making competitions. Over 100 students from various schools in Punjab participated enthusiastically, showcasing their creativity and commitment to biodiversity conservation.