"Bajrang Dal and Vishwa Hindu Parishad protest over Nuh, Gurugram Violence"

"Delhi braces for Protests amid Nuh, Gurugram unrest; Security Tightened"

"Police presence amplified in Delhi amid Nuh, Gurugram unrest"
Nuh, Gurugram- The aftermath of recent violent clashes in Haryana's Nuh and Gurugram districts has left the region on edge for the past two days, resulting in a devastating toll of six confirmed deaths. In response to these distressing incidents, both the Bajrang Dal and Vishwa Hindu Parishad have declared their intent to stage protests at multiple locations on Wednesday.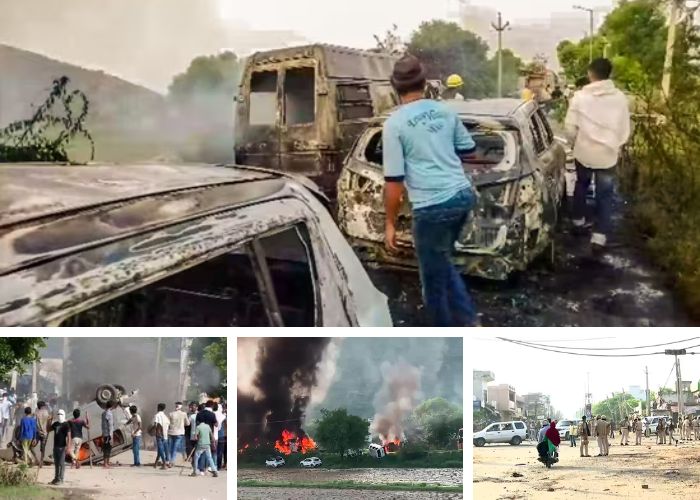 Among the planned demonstrations, the national capital, Delhi, is not exempt. The Delhi Police have sternly warned against any attempts to disrupt harmony, emphasizing a strict approach to maintaining law and order. Subsequently, a substantial police presence has been deployed throughout various sectors of Delhi, and security measures have been bolstered in neighboring Noida as well.
Amid the unrest, members of the Bajrang Dal were observed staging protests beneath the Nirman Vihar metro station in Delhi, leading to road closures and an advisory issued by the Delhi Traffic Police.
VIDEO | Bajrang Dal and VHP hold protest near Nirman Vihar Metro Station in Delhi against #Nuh violence. pic.twitter.com/FpaEDC7oXp

— Press Trust of India (@PTI_News) August 2, 2023
A spokesperson for the Delhi Police conveyed on Wednesday, "Given the recent incidents of violence in Haryana, we have bolstered security arrangements at sensitive points across Delhi." Meanwhile, ACP Varun Dahiya of Gurugram assured that the situation within the district remains under control, with ongoing vigilance and close monitoring.
Reassuring the public, ACP Dahiya affirmed, "There is no cause for alarm. The Gurugram Police stand united with the community, and there is no need to fear."
Tensions persist in Nuh following the outbreak of violence earlier this week. Urging the public to seek assistance as needed, ACP Dahiya stated, "For immediate police support, anyone can dial 112."
Haryana's Chief Minister, Manohar Lal Khattar, addressed the grave situation on Wednesday, revealing, "Tragically, six individuals have lost their lives – among them, two Home Guard personnel and four civilians. Numerous others have sustained injuries."
नूंह मामले में 116 लोगों की गिरफ़्तारी हो चुकी है, आज उन्हें रिमांड पर लेकर उनसे पूछताछ की जाएगी।

इसके आधार पर बाकी दोषियों को भी जल्द पकड़ लिया जाएगा, किसी को भी बख़्शा नहीं जाएगा।

मेरी सभी नागरिकों से अपील है कि वे प्रदेश में शांति बनाए रखें। pic.twitter.com/8e7sjWYiGP

— Manohar Lal (@mlkhattar) August 2, 2023
The police have taken swift action, apprehending a total of 116 individuals implicated in the violent confrontations. CM Khattar delivered an unwavering message, asserting, "Accountability will be exacted from those responsible for the outbreak of violence. I implore the public to uphold peace and harmony; frayed relations only serve to escalate tensions. Let us stand united in brotherhood, preventing any further escalation of untoward incidents."