Mukesh Ambani Champions the Cause for a 2G-Free India

Reliance Jio Introduces 'Jio Bharat Platform' to Drive Digital Transformation

'Jio Bharat Platform': Empowering Phone Brands to Create 'Bharat Phones'Carbon Company Embraces

'Jio Bharat Platform' for Enhanced Phone Development

Enjoy 14 GB of Data with Reliance Jio's Affordable Monthly Plan at Rs 123
NEW DELHI: Reliance Jio has unveiled the 'Jio Bharat V2', a 4G phone aimed at capturing the attention of India's 250 million 2G customers. Priced at an affordable Rs 999, the 'Jio Bharat V2' is expected to attract over 10 crore new customers, as it offers the lowest price among internet-enabled phones in the market. Reliance Jio, which currently operates 4G and 5G networks, hopes to transition these 2G customers away from competitors like Airtel and Vodafone-Idea.
Affordable Connectivity for All: Reliance Jio's 'Jio Bharat V2' Targets 250 Million 2G Customers..#jio #jio4g #BharatV2 pic.twitter.com/I7fYsEHF7D

— Daily Times India (@dti_news) July 3, 2023
To support its goal of a 2G-free India, Reliance Jio has launched the 'Jio Bharat' platform, which enables other phone brands to create their own 'Bharat Phones' using the platform. The Carbon Company has already embraced the 'Jio Bharat Platform', and experts predict that the Bharat series of 4G mobiles will soon replace 2G feature phones.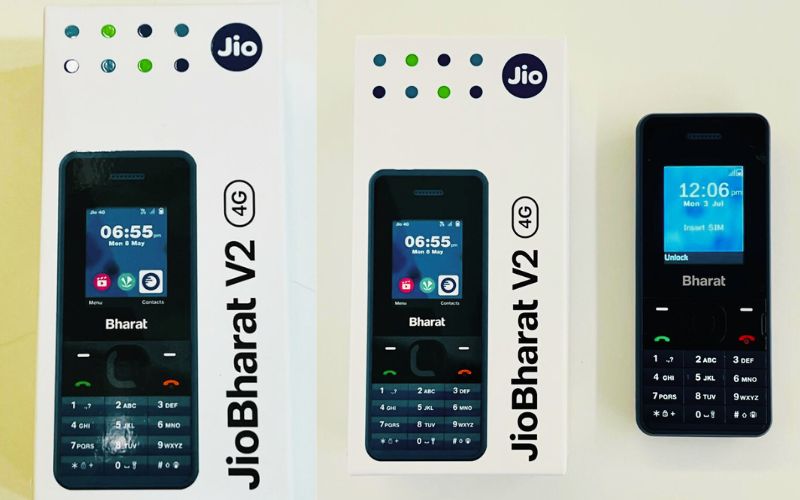 In addition to the affordability of the 'Jio Bharat V2' handset, the accompanying monthly plan is also attractively priced at Rs 123, providing customers with 14 GB of 4G data. This amount is seven times more than what competitors offer with their 2 GB monthly plans, which start at Rs 179. An annual plan is also available for Rs 1234. The company plans to commence beta trials for the 'Jio Bharat V2' from July 7 and aims to reach 6500 tehsils (administrative subdivisions) with the device.
Mukesh Ambani, the owner of Reliance, has been actively promoting a 2G-free India and hopes to achieve this through the 'Jio Bharat' platform and the 'Jio Bharat V2' phone. The company's previous offering, JioPhone, has garnered over 130 million customers since its launch in 2018, and similar success is expected for 'Jio Bharat V2'.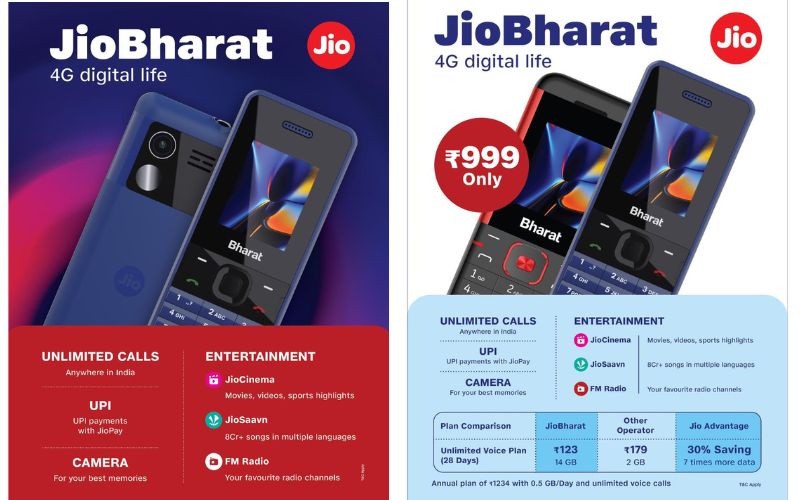 The 'Jio Bharat V2' is a lightweight device, weighing only 71 grams, and is proudly made in India. It features 4G connectivity, HD voice calling, FM radio, support for up to 128 GB SD memory cards, a 4.5 cm TFT screen, a 0.3-megapixel camera, a 1000 mAh battery, a 3.5 mm headphone jack, a powerful loudspeaker, and a torch.
Customers who purchase the Jio Bharat V2 mobile will also gain access to Jio-Saavn's library of 80 million songs and a subscription to JioCinema. Additionally, Jio-Pay allows for UPI transactions. The phone is designed to support 22 Indian languages, enabling customers to use it in their preferred language.