New Delhi – In a vibrant display of patriotism and unity, several Union ministers took part in the 'Har Ghar Tiranga' bike rally on Friday at the iconic Pragati Maidan area in Delhi. The rally, which marked the second edition of the campaign, was initiated as a precursor to the upcoming 76th Independence Day celebrations. Vice President Jagdeep Dhankar flagged off the rally, which saw prominent ministers riding through the heart of the city, amidst cheers and chants of 'Bharat Mata Ki Jai'.
मेरे मन में कोई शंका नहीं है,
जब 2047 में भारत
आजादी के सौ साल पूरे करेगा,
हमारा स्थान विश्व में शीर्ष पर रहेगा! #HarGharTiranga pic.twitter.com/aG7oBiqGgD

— Vice President of India (@VPIndia) August 11, 2023
The rally commenced from Pragati Maidan and traversed through significant landmarks, including Mathura Road, Bhairon Road, India Gate, and the Pragati Maidan tunnel. In a video shared by news agency ANI, Union Minister Kishan Reddy was seen steering the bike, while Anurag Thakur proudly held the Indian tricolor flag. Their ride was accompanied by a resounding chorus of patriotic slogans, capturing the essence of national pride.
#WATCH | 'Har Ghar Tiranga' bike rally flagged off by Vice President Jagdeep Dhankhar, from Pragati Maidan in Delhi.

Union Ministers G Kishan Reddy, Anurag Thakur and Shobha Karandlaje are also participating in the rally. pic.twitter.com/Y5kNhMy4ij

— ANI (@ANI) August 11, 2023
Union Minister Ashwini Kumar Choubey, a representative of Bihar, also joined her colleagues in the spirited rally, showcasing the diversity and solidarity that defines the nation. He said, 'Every home tricolor, every heart tricolor', Come, let's make our invaluable contribution to make Har GharTiranga a success and spread the flame of patriotism across the country.
'हर घर तिरंगा, हर दिल तिरंगा' 🇮🇳

आइए, #HarGharTiranga को सफल बनाने हेतु अपना अमूल्य योगदान दें और देशभक्ति की ज्योत को देश भर में फैलाएं। #NewIndia@BJP4Bihar @BJP4India pic.twitter.com/gP5IC2zCz5

— Ashwini Kr. Choubey (@AshwiniKChoubey) August 11, 2023
The 'Har Ghar Tiranga' campaign, an initiative launched under the 'Azadi Ka Amrit Mahotsav' festivities, was introduced by Prime Minister Narendra Modi on July 22 last year. The campaign aims to deepen the connection between every citizen and the national flag, fostering a sense of reverence and unity. It encourages individuals across the country to hoist the tricolor flag at their homes, thereby symbolizing their unwavering commitment to the ideals of freedom and unity that the flag represents.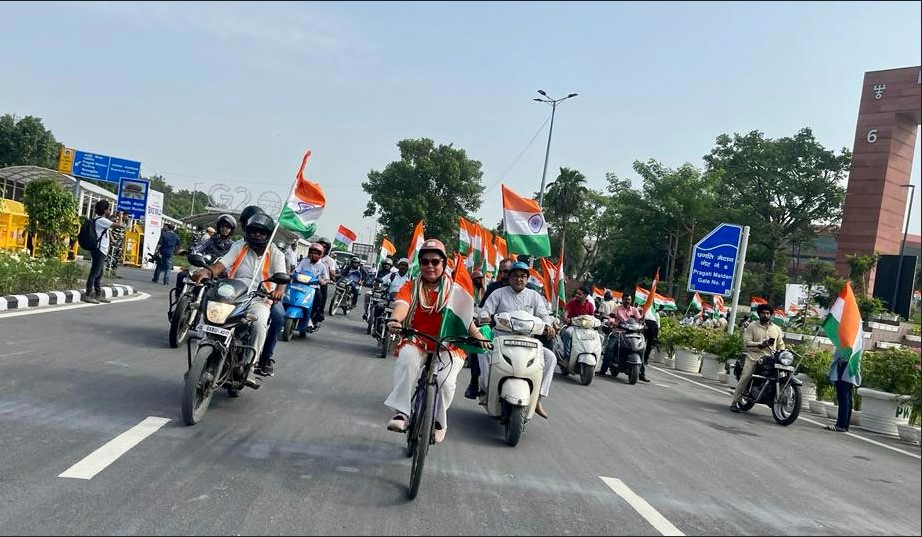 The second edition of the campaign is scheduled to be celebrated from August 13 to August 15, coinciding with the dates of the previous year's campaign. This year's Independence Day holds particular significance as India commemorates its 76th year of independence. As part of the campaign, the official government website for 'Har Ghar Tiranga' provides comprehensive guidelines on the proper folding of the national flag. The step-by-step instructions ensure that the tricolor is handled and stored with the utmost respect.
Follow these steps to correctly fold the national flag:
Begin by placing the Tricolour horizontally.
Fold the saffron and green bands underneath the white band.
Carefully fold the white band so that only the Ashoka Chakra is visible, with subtle traces of the saffron and green bands.
After folding, carry the flag in your arms or palms to securely store it in a safe location.
Top of Form