Kedar Prashad Gupta will be the BJP candidate from Kudhani seat.

BJP gives ticket to wife of ex-MLA convicted in Muzaffarnagar riots in UP by polls
PATNA: BJP has released the list of its candidates for the by-elections to be held in Kudhani assembly seat of Muzaffarpur in Bihar. BJP has given ticket to Kedar Prasad Gupta from Kudhani assembly seat.
The same BJP has given ticket to Rajkumari Saini for the Khatauli seat of Muzaffarnagar for the UP assembly by-election.
Rajkumari Saini is the wife of former BJP MLA Vikram Saini. Vikram Saini was convicted along with 11 others in a case related to the 2013 Muzaffarnagar riots, following which his assembly membership was revoked.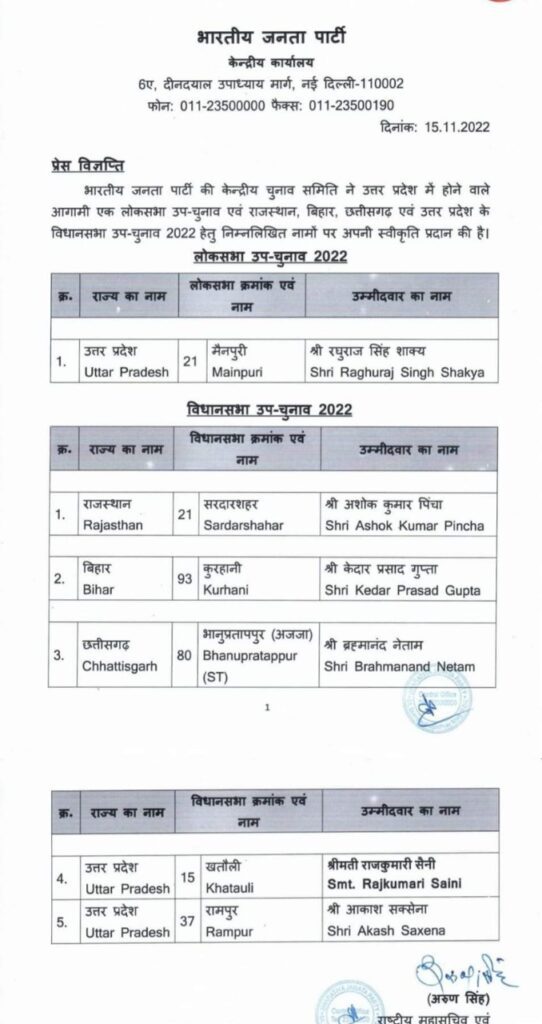 BJP also announced the names of its candidates for Mainpuri Lok Sabha seat and Rampur assembly seat in Uttar Pradesh on Tuesday.
The party has given ticket to Raghuraj Shakya against Samajwadi Party candidate and Akhilesh Yadav's wife Dimple Yadav in the Mainpuri Lok Sabha by-election. He has previously been an MLA from SP. Already in Mainpuri, speculations were being made about BJP giving ticket to a candidate from Shakya Samaj and in the 2019 Lok Sabha elections also, the party fielded a candidate from Shakya Samaj against Mulayam Singh Yadav. In Mainpuri, after the Yadavs, there is a sizeable number of voters from the Shakya community.
At the same time, BJP has declared Akash Saxena as the candidate for the by-election on Rampur assembly seat. The seat of Rampur is considered to be Azam Khan's stronghold, but Azam Khan's membership was canceled after he was found guilty in the case of inflammatory speech, due to which this seat became vacant. At present, SP has not announced its candidates for this seat.
Voting will be held on all these seats on December 5 and counting of votes will be done on December 8.