Patna: Bihar Chief Minister Nitish Kumar and Deputy Chief Minister Tejashwi Yadav paid tributes to Jananayak Karpoori Thakur on his birth anniversary by paying floral tributes at his statue at Karpoori Thakur Memorial Museum.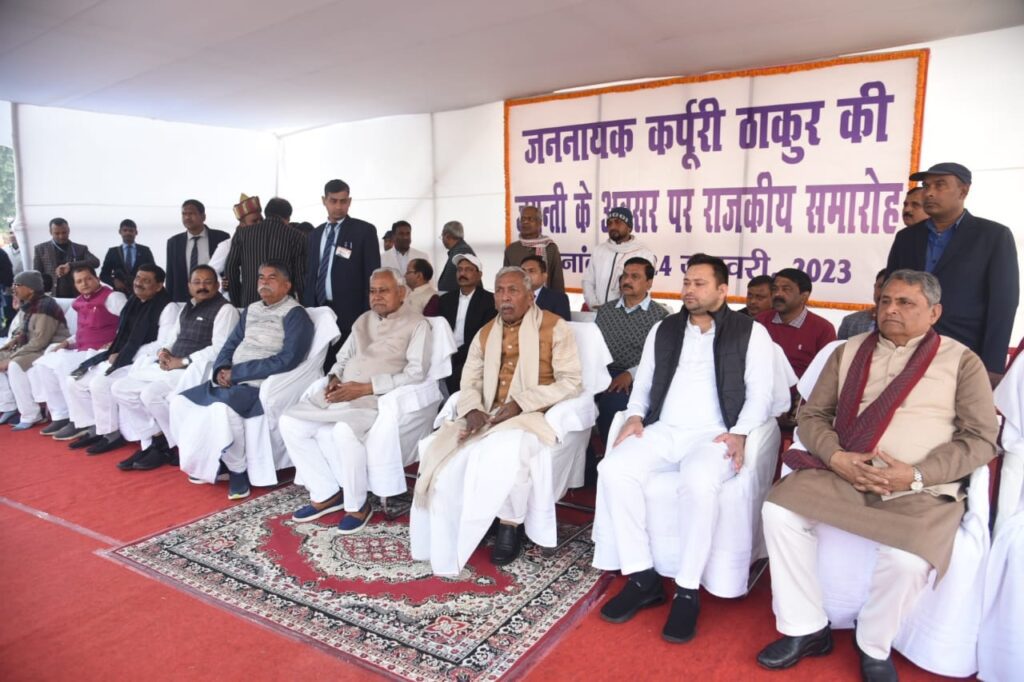 On Karpoori Thakur Jayanti, Bihar Chief Minister Nitish Kumar said that he played a big role in the freedom struggle. He also worked in every way for the development of Bihar. We always discuss his work among people.
Bihar CM Nitish Kumar and Deputy CM Tejashwi Yadav attend Karpuri Thakur Jayanti in Patna. pic.twitter.com/83sdvjZmc6

— ANI (@ANI) January 24, 2023
The same Deputy Chief Minister Tejashwi Yada also reached the RJD office and paid tribute to Karpoori Thakur by garlanding his statue.
हाशिये के समूहों के उत्थान के लिए अपना सम्पूर्ण जीवन समर्पित कर देने वाले बिहार के पूर्व मुख्यमंत्री जननायक कर्पूरी ठाकुर जी की जयंती पर आयोजित कार्यक्रमों में उन्हें भावभीनी श्रद्धांजलि अर्पित कर नमन किया। pic.twitter.com/OI93pXYA3K

— Tejashwi Yadav (@yadavtejashwi) January 24, 2023
Tejashwi Yadav tweeted that he paid heartfelt tributes to former Bihar Chief Minister Jannayak Karpuri Thakur ji, who devoted his entire life for the upliftment of marginalized groups, in the programs organized on his birth anniversary.