Paris, France – Tensions and unrest persist in France as violent clashes between protesters and law enforcement continue in the aftermath of the fatal shooting of a 17-year-old youth by the police. The incident has sparked outrage and renewed scrutiny over police practices in the country.
French Interior Minister, Gerald Darmanin, has reported that over 150 individuals were apprehended during overnight demonstrations across the nation. Minister Darmanin took to Twitter, alleging that protesters targeted schools, town halls, and police stations during the unrest.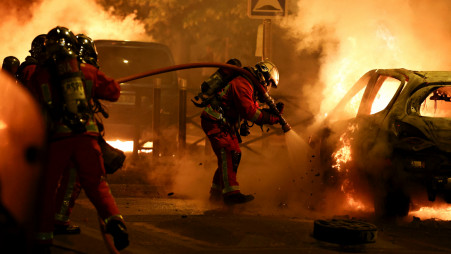 The incident that ignited these protests occurred on Tuesday when law enforcement officers shot Nahel M., a young man who failed to comply with a traffic check. Initially, the police claimed that Nahel had driven his car toward the officers with the intention of causing harm. However, video footage of the incident emerged, corroborating a different account.
In the footage, a police officer is seen pointing a pistol at Nahel from the window of the car, ultimately firing at close range. The authenticity of the video has been confirmed by the news agency AFP, casting doubt on the police's initial justification for the shooting.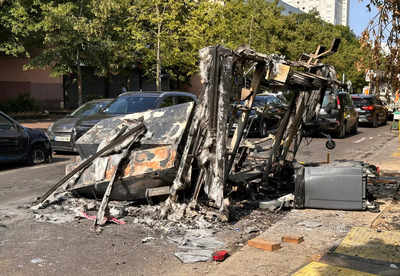 French President, expressed his condemnation of the incident, describing the shooting as "inexcusable." He emphasized that nothing can justify the loss of a young life. The president's statement underscores the need for a thorough investigation into the circumstances surrounding Nahel's death.
In a troubling revelation, Reuters news agency discovered a concerning pattern among those who have lost their lives in police shootings in France since 2017. A significant majority of the victims were individuals of black or Arab origin, raising questions about potential biases within the police force. Last year alone, 13 individuals lost their lives due to non-compliance with traffic rules.
WARNING: GRAPHIC CONTENT
Protesters shot fireworks at police and set cars ablaze in the working class Paris suburb of Nanterre, in a second night of unrest following the fatal shooting of a 17-year-old boy during a traffic stop https://t.co/pgoyCDKcHg pic.twitter.com/vnNA3SVtFQ

— Reuters (@Reuters) June 29, 2023
Nahel M., hailing from a family of French-Algerian heritage, tragically joins the ranks of those whose lives were cut short during police encounters. Neighbors of the deceased have spoken to Reuters, shedding light on Nahel's background and adding to the growing concern over racial profiling and disproportionate use of force.
As France grapples with the fallout from Nahel's shooting, there is an urgent call for transparency, accountability, and meaningful reforms within law enforcement agencies. The incident has reignited public debate about police conduct, amplifying the need for comprehensive measures to address systemic issues and ensure the protection of citizens' rights.
The ongoing demonstrations and clashes serve as a powerful reminder of the deep-seated frustrations within the French society. It is now up to the authorities to address these grievances, foster dialogue, and work towards meaningful change to restore trust and confidence in the justice system and law enforcement agencies.