PATNA: BJP President JP Nadda, who reaches to attend the National Executive meeting of BJP United Front, held a mega roadshow in Bihar's capital Patna on Saturday.
Nadda arrived JP Golbar at Gandhi Maidan through road show from Patna airport. During the visit, Party workers has given a grand welcome to BJP President.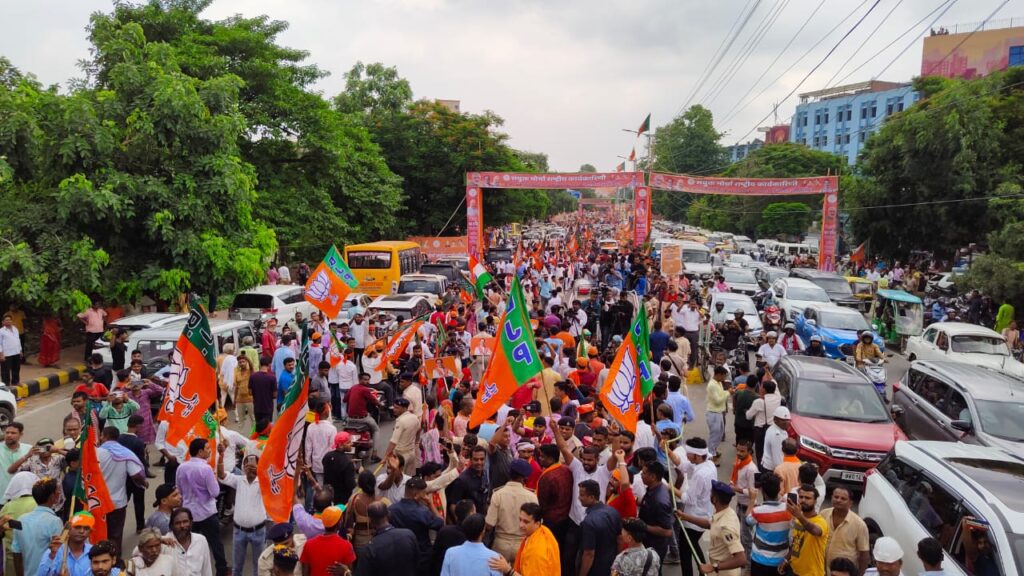 According to the report, thousands of workers on motorcycles started walking with JP Nadda's convoy. During roadshow, slogans of Bharat Mata Ki Jai and Jai Shri Ram started being raised.
After leaving Patna airport, JP Nadda garlanded the statue of Dr. Bhimrao Ambedkar. After this, he left for JP Golambar rifing on a chariot. Pillars and reception gates were put up at many places to welcome Nadda. Flowers were showered by the crowd people. State President Sanjay Jaiswal, Ravi Shankar Prasad, Minister Nitin Naveen and all the big leaders of Bihar BJP were present along with JP Nadda in the road show.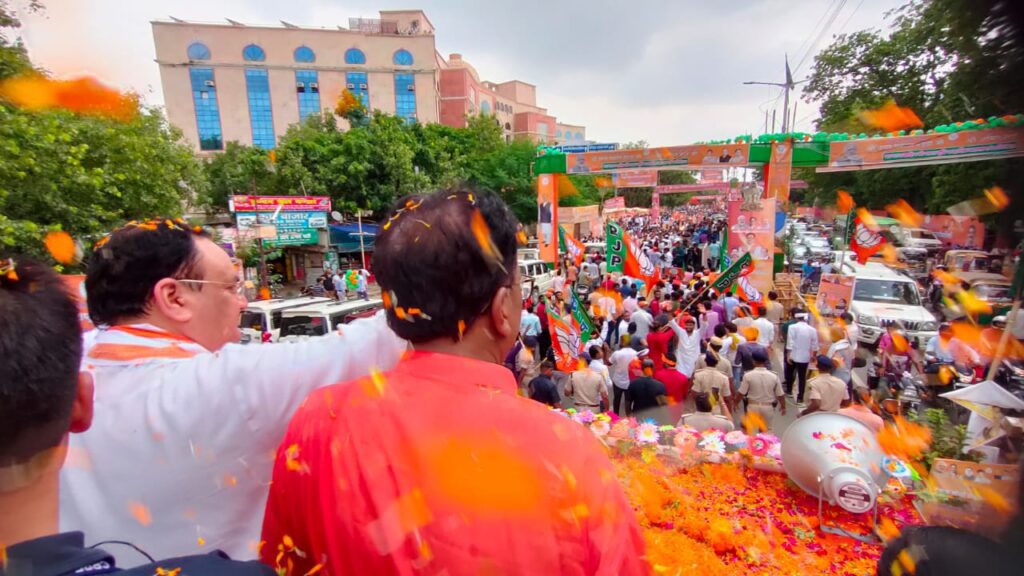 Two-day meeting of BJP's Morcha National Working Committee from today, More than 750 leaders arrives across the country to attend the meeting
BJP National President JP Nadda will attend the inaugural session of the meeting today, while Union Home Minister Amit Shah will conclude the executive committee a day later. On Saturday, Amit Shah on the one day visit to Chandigarh.
BJP United Front's national executive meeting is being seen as a show of strength in Bihar. The BJP organized a road show to energize the workers. According to experts, for the first time in a decade, such a grand event of BJP is being organized in Bihar. In such a situation, there is great enthusiasm among the local leaders and workers.
During the roadshow with our karyakartas in Patna, Bihar. https://t.co/sFYqE2UsPX

— Jagat Prakash Nadda (@JPNadda) July 30, 2022
माननीय राष्ट्रीय अध्यक्ष श्री @JPNadda जी का पटना हवाई अड्डे पर भव्य स्वागत। #SwagatamNaddaJi https://t.co/1twlerfESU

— BJP Bihar (@BJP4Bihar) July 30, 2022
Seminally, it is being reported as a preparation for the Lok Sabha elections 2024. Leaders of all fronts of BJP from across the country visited different assembly constituencies of the state for two days and counted the achievements of Narendra Modi at the Center and the Nitish government of the state.